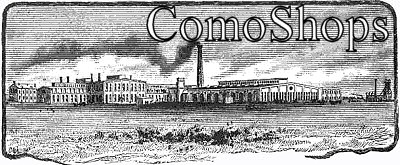 Home of Grenadier Publications & ComoShops.com!
4 December 2020 - Just to let you know our website is not totally up to date. Our web host, upgraded our website this past summer (we were fine with what we had), so I had to figure that one out. John has added new items to the site (John just can't stop buying RR items) & we have sold some items.
You can still place an order. I always wait to charge credit cards until I have the order firmly in hand. We will see if we still have your requested item/s & send it off to you.
Anything wanted for Christmas, must go out by 15 December - per the USPS.
This time my health has worsened, and since I do the website & can't sit long at a computer, the website is not up to date - hopefully this will be remedied in 2021.
We appreciate your Patience!
Barb Luecke
                       HAPPY HOLIDAYS FROM JOHN & BARB LUECKE!!!
_____________________
31 August 2020 - If you have tried to visit this site over the summer, you will have noticed that we have had maintenance issues. Our hosting service added some "bells & whistles", which confused our site & we could not fix it on our end. When they transferred their new service, we have been able to get the website up & running again. We have tried to make it as close to the original as possible.

The goal of this website has always been to allow the customer to search for Railroad book/s, order the book & have it sent on its way. We are not the "bells & whistles" types. We hope we have put it back together, as closely to the way it was! You will notice some changes - if you have any questions, drop us an email.
HEALTH UPDATE - Due to my ongoing Health issues, I have been instructed by my cardiologist, to "Shelter in Place" & have been housebound since February. Not much of a change on my part, since I usually stayed home, going to a few RR Shows a year. I went to the 1 February 2020 RR Show at Century College & had paid for Madison, but came home with Influenza A & missed Madison in mid-February. I was hoping to do TrainFest, but they smartly called that show off pretty early. So all I can say is - See you Next Year!
Because of my Health Issues, I am NOT taking appointments to view my books at the House. We have had No One in the House since February. We may be able to arrange for you to pick up your Order at the house, saving postage, but this request will be done on an Order by Order basis. (Give a call at 651-646-2094 - afternoons & early evenings are best).
                       NOW AVAILABLE EXCLUSIVELY FROM GRENADIER PUBLICATIONS -
                               THE MINNESOTA RAILROAD VALUATION MAPS
This item includes a set of over 4,000+ Valuation Maps of Minnesota's Railroads, all on a convenient thumb-drive. Most importantly, however, is the 100 page index for these maps. This index allows the maps to be accessed in a simple and timely manner.
The maps are of two different types" Right of Way Maps & Station Plats. The Right of Way Maps show the layout of various lines from "Point A to Point B". The Station Plats are detailed maps of the various towns throughout Minnesota located on each railroad. While the detail of the maps, which generally date from the 1920s period, varies, they are the best representation of Minnesota's various rail lines.
I have been using these maps for research purposes for decades and find them invaluable, as I'm sure any avid student of Minnesota Railroad History will also. They are topics for in depth study and are sure to answer countless questions for anyone who invests in them.
The Minnesota Railroad Valuations Maps will only be available through Grenadier Publications (my publishing company).
PRICE - $35.00 plus $4.00 *Shipping & **Minnesota Sales Tax (where applicable).
In the Fall of 2019, I purchased another book collection of more than 2,000 out of print books. This collection includes a wealth of subjects from across the country and they are all (almost) in very good shape, having been well cared for by their previous owners. I've been in the Railroad book business for 40 years and there are quite a number of books in this collection that I've never seen before. They are priced to sell. (If you are interested in 4 or more titles, contact me and we'll see what we can work out as far as a "bundle-price").
The books are listed in the Category Section of the Home Page, under ES.
SHIPPING -
Books - $6.00 for the 1st book & $1.00 for each additional book.
*Minnesota Railroad Valuation Maps - $4.00 for the 1st book & $1.00 for each additional book.
Our Website is set up for a $6.00 Default Shipping Rate for all items sold. When necessary, we will manually adjust all orders before processing.
**Minnesota Sales Tax - All Minnesota residents must include Minnesota Sales Tax - (see the Minnesota Department of Revenue for futher information).
Payments by Check - Make your check out to the following -
Grenadier Publications
1108 Farrington Street
St. Paul, Minnesota 55117
Thanks for Your Patience and Business!
John & Barb Luecke
31 August 2020